Contratista (OPS)
Salary: 15,000 + Prestaciones de Ley
Disponibilidad de viajar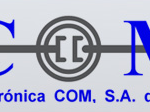 Web ELECTRONICA COM S.A. DE C.V.
Representante exclusivo de Espectrometría

Description:
Electrónica COM is a company committed to its clients to satisfy their quality requirements focused on the analysis of materials and thus optimize and streamline their processes, supplying innovative optical emission, X-ray and combustion equipment which are designed to satisfy the most demanding requirements of the market and thus contribute to increase the productivity of our clients.
As a service engineer, you will be responsible for the preventive and / or corrective maintenance of the instrument plus solve customer requirements.
Requirements:
a.                Electronic / electrical / electromechanical engineer with a degree or intern.
b.            Age: 28 to 35 years.
c.            1 year experience in similar position.
d.            Driver's license – essential.
e.            English – essential whit certificate.
F.            Basic tool handling.
g.            Basic computer skills.
h.            Live in the southern part of Mexico City.
i.             willingness to travel 24/7
We offer:
a.            Competitive salary
b.            Law benefits (IMSS. Paid vacations)
c.            Job stability
d.            Direct contracting (100% payroll)
karina.soto@electronicacom.com